A rear thwart is like a dashboard for the stern paddler. Below is a picture of how I set up my rear thwart. Using just over a buck worth of bungee, I have a place to store a map, compass, and my morning coffee.
My rear thwart is slanted forward to provide a kneeling location for solo paddling, so I've added a small wedge of wood to provide a level platform for the compass. The bungee is slotted through a hole drilled into the thwart and knotted on the backside. The map bungee is also a nice place to stash a rain jacket on windy days.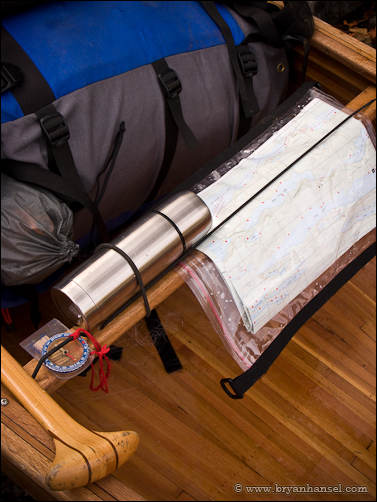 Anyone else do anything similar or how do you deal with loose items in the canoe?
Last edited by
Bryan Hansel
on Thu Nov 11, 2010 4:03 pm, edited 1 time in total.
Posts: 678
Joined: Fri May 14, 2004 6:36 pm
Location: Grand Marais, MN
---
Thanks for adding the tip Bryan. I've seen that idea before (perhaps from you?) and think it's a good one and is on my list to implement one of these days. Until I build a cedar strip canoe my thwarts on my current canoe are aluminum. I've been thinking of looking for some hinged d-rings (
like this
) that I can pop rivet to the thwart to provide attachment points for the same reason.
Cheers,
Bryan
Posts: 323
Joined: Sun Nov 28, 2004 11:20 pm
Location: Saskatoon, SK
---
When I built my Osprey I included bungees in both front and back thwarts. The back one just gets the back painter tucked into it, (The Osprey is wiggly enough that turning to get at stuff behind me is a big deal) but the front one gets a lot of use. I didn't get so elaborate as to include a compass, but now you bring the idea up, I like it.

With the Wee Lassie II I was in a hurry to finish it before it got too cold to paddle. I completely forgot about including holes for bungees, but it will be easy to retrofit that. I did toy with the idea of including a compass but the front thwart has to be down by my feet (the paddler sits in the bottom of the boat, with legs stretched out in front) so a a compass small enough to be supported by the thwart would be too small for me to read from that distance.

I toyed with the idea of including a "bump" in the inwales to make a place to inset a compass, but the idea fell by the wayside in my rush to finish. I did make the inwales with slightly thicker spacers at the balance point so I can make a yoke that clamps to the inwales there, for portaging. But they're still not thick enough there to support a compass, I think.
Posts: 20
Joined: Wed Nov 03, 2010 4:55 pm
---
---
Return to Boat-Building Tips & Techniques
Who is online
Users browsing this forum: No registered users and 1 guest